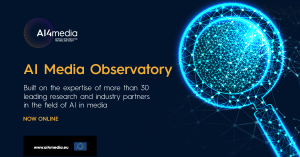 The AI Media Observatory is a knowledge platform that monitors and curates relevant research on AI in media. Over the last few months, we have been slowly building a knowledge foundation of articles and audiovisual content covering questions regarding the environmental and societal impact of AI, emerging policies and legislation, how to ensure social and ethical AI, and what the upcoming trends and technologies look like.
The content currently featured on the observatory is curated by the consortium and is based on the expertise of more than 30 leading research and industry partners in the field of AI in media. However, all stakeholders are also invited to submit content to the Observatory to ensure its relevance for everyone working at the intersection of media and AI. More information on how to submit and the criteria can be found on the 'Editorial Board' page.
As the latest feature, the AI Media Observatory now also includes an expert directory where AI and Media experts can be featured, allowing stakeholders to easily get in touch with relevant experts in the field. The expert directory is open, and all experts are welcome to sign up and have their profiles featured as long as they meet the eligibility criteria.
The Observatory in short
In short, the overarching goal of the Observatory is to support the ongoing efforts of the multidisciplinary community of professionals who are working towards ensuring the responsible use of AI in the media sector. It aims to contribute to the broader discussion and understanding of the development and use of AI in the sector and its impacts on society, the economy, and people. The observatory aims to fulfil this goal by curating relevant content that provides expert perspectives on the potentials and challenges that AI poses for the media sector through its sections 'Your AI Media Fee' for written content and 'Let's Talk AI and Media' for audiovisual content. It also provides an easy overview of relevant experts in the field through our directory 'Find your AI Media Expert.'
Author: Anna Schjøtt Hansen (UvA)