AI4Media is composed of 30 organisations from 16 EU countries, comprising 9 universities, 9 research centers, and 12 industrial partners, which was built aiming to bring together both leading experts from top-ranked institutes and big industries, as well as high-growth institutes and innovative SMEs across the whole Europe. This diversity and multidisciplinarity will enable the project to reinforce collaboration and exchanges between academia and industry.
In September 2020, this group of organisations met for the first time under the scope of AI4Media, in the first e-meeting of the project. This meeting was a great opportunity to meet the team that will be collaborating during the next 48 months.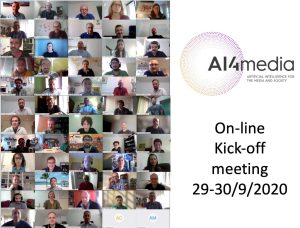 Each respective partner presented the strategies and plans for the different activities to be implemented during the project, relevant questions and opinions were shared and discussed. After 2 productive days, all the partners had a better understanding of the work ahead, their respective roles, and their involvement.