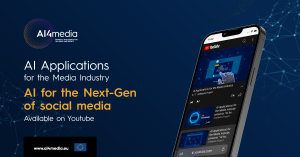 Unveiling the AI4Media Video Series
AI4Media, a European funded project at the intersection of AI and media, has curated a video series that provides a fascinating glimpse into the realm of AI applications within the media industry. Accessible to a global audience, this series aims to demystify AI's role in shaping the future of media while highlighting the practical implications and potential of this powerful technology.
What makes the AI4Media video series truly captivating is its multifaceted exploration of AI's applications in media. Each episode delves into a specific facet of this dynamic relationship, offering valuable insights and real-world examples. These are the exciting topics covered in the series:
AI for News Production: This video highlights how AI enhances journalism, aiding in effective news reporting, especially in challenging scenarios, by optimising bandwidth, content management, and enabling real-time mapping and 3D visualisations.
Robot Journalism: This video exemplifies how AI streamlines event coverage and content generation by managing extensive data, integrating information efficiently, and improving the quality of automated content, all while preserving editorial control.
AI for the Next-Gen of Social Media: This video explores the various applications of AI in social media, including automating trend detection, aggregation, categorisation, analysing public sentiment and perceptions, content translation, and more.
AI for Entertainment/Movie Production: This video demonstrates how AI technologies streamline the filming process, enhance content reach, and provide creative options, all while saving valuable time and resources.
AI for Games: This video illustrates how AI assists medium-sized game development companies by streamlining testing processes, pinpointing issues in new content, and elevating overall productivity and quality, establishing itself as an invaluable solution in the industry.
AI for Music: This video demonstrates how AI can enhance music composition and live performances, providing synchronisation support for movie soundtracks and empowering DJs with dynamic, style-adaptive music creation during live shows.
AI for Publishing: This video explores how AI-driven co-creation platforms are revolutionising manuscript selection for publishers through user feedback analysis and content feature assessment.
Real-world applications and case studies are highlighted, illustrating how AI is being harnessed to address challenges and unlock new opportunities in the media ecosystem.
AI4Media's video series goes beyond mere dissemination; it aims to empower knowledge and foster dialogue. By presenting complex concepts in an accessible manner, the series invites viewers to join the conversation surrounding AI in the media. Whether you are an industry professional, a curious enthusiast, or an academic, the series provides a platform for understanding, discussion, and engagement.
Access the Series Today
The AI4Media video series is just a click away on YouTube, accessible to anyone with an internet connection and a thirst for knowledge. To embark on this enlightening journey and explore the applications of AI and media, follow this link: AI4Media Video Series on YouTube.
Don't miss the opportunity to uncover the transformative potential of AI in the media industry.
Author: Candela Bravo (LOBA)