14 September 2021, 9h to 13h30 CEST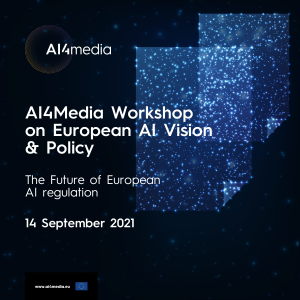 On September 14th, 2021, AI4Media will organise a workshop on
"European AI Vision & Policy - The Future of European AI regulation"
with the objective of presenting the recent research advances achieved in the AI4Media project on this domain. The workshop includes presentations from AI4Media partners and invited speakers. The contributions from the project partners to the workshop are particularly related to:
the latest European developments in the field of AI regulation, e.g. the European Commission's Proposal for a Regulation on Artificial Intelligence (Artificial Intelligence Act);
the relevance of the AI Act for media and journalism;
the use of AI in the media sector: lessons learned and recommendations from Austrian and French case studies;
the role of data for academic research;
responsible and ethical use of AI in the media sector.
The invited speakers will tackle two complementary topics:
Muriël Serrurier Schepper from Media Perspectives will give a guest talk on "Reaching consensus in the Dutch media industry on a Declaration of Intent for responsible use of Artificial Intelligence in the media: background and current state" where she will present the insights from the Dutch case study on the use of AI in the Media sector
Matthias Spielkamp from AlgorithmWatch will give a guest talk on "Gatecrashing the platforms' party: Data access between self-defence and red herring" where he will address the key topic of accessibility of online platforms' data for academic research.
The workshop will end with the keynote by
Prof. Paul Keller
and
Dr. Alek Tarkowski
from the OpenFuture Institute, who will give a presentation on "Regulating AI and the cultural commons" tackling the issue of the use of openly licensed photos and datasets for AI training. Taken together, these contributions will allow a better understanding of the legal, political and societal challenges faced by the media sector. Ultimately, the objective is to contribute to the ongoing debate on the policy recommendations in the field of media and AI regulation.
Join the Workshop via Webex » HERE
Watch the Workshop LIVE on Facebook » HERE
AGENDA