When: 11 December 2023 - 14h to 16h45 CET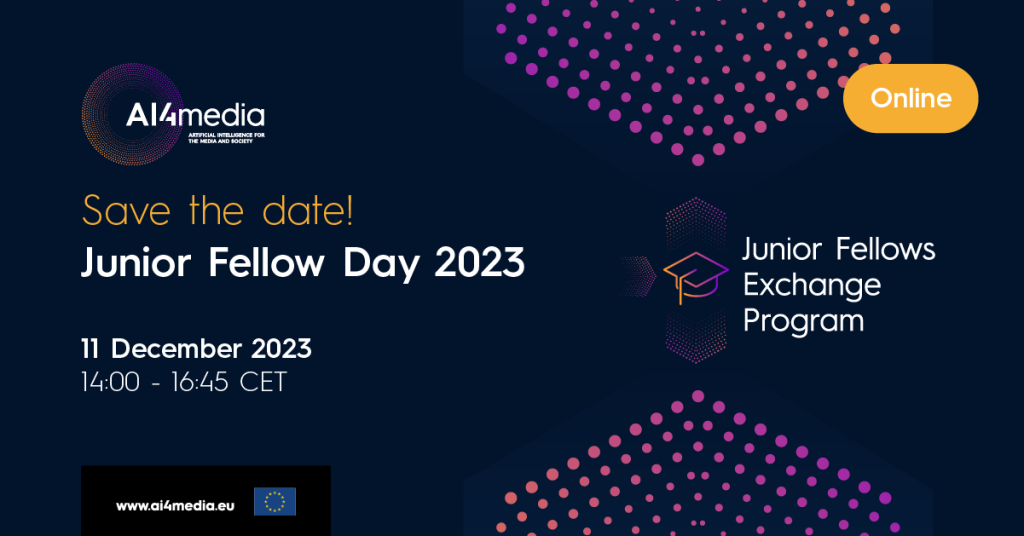 During the last 3 years, the AI4Media Junior Fellows Exchange Program has contributed to the creation of a critical mass of early career researchers with a deeper understanding of both media AI research and media industry needs, through research exchanges and collaborative work with research labs and media companies in Europe.
Up to now, the program has fostered over 70 Junior Fellow exchanges involving researchers from diverse backgrounds from over 40 organisations across Europe. This collaborative effort has produced a multitude of valuable outcomes, including groundbreaking papers, innovative software solutions, and open datasets, solidifying the program's pivotal role in advancing AI excellence under the banner of "AI made in Europe."
On December 11, 2023, AI4Media will host the "Junior Fellow Day 2023", for its second edition. This event is dedicated to celebrate the remarkable work and achievements of the Junior Fellows who have played a significant role in our Exchange Program. In this context, the day will serve as a vibrant platform for these talented individuals to showcase their contributions to the advancement of AI, particularly with application in the Media industry.
This edition of the event will be conducted virtually, taking place from 14h to 16h45 CET, ensuring accessibility for a global audience. Interested participants are invited to join us in celebrating the groundbreaking work of our Fellows.
REGISTRATION
Participation is free, but we kindly request all attendees to register in advance. Please secure your spot by completing the registration form provided below.
Upon successful registration, the Zoom link for the event will be shared with all participants.
Deadline for registration: Friday, December 8, 2023
PROGRAM
14:00 - 14:05 | Zoom event starts
14:05 - 14:10 | Introduction to AI4Media: Yiannis Kompatsiaris  (ITI/CERTH)
14:10 - 15:10 | Session 1 - "AI in Media: Analysis and Insights"
Mathias Felipe de Lima Santos (UVA and

RAI ):

Uncovering the Applicability of AI in Media.

Evan Dufraisse (CEA and VRT): Targeted-Sentiment Analysis for  Opinion-Mining in the News.

Marko Chavdar (

Ss. Cyril and Methodius University and AUTH): Leveraging Transfer Learning for Video Summarization through Audio and Image Feature Fusion.
15:10 - 16:10 | Session 2 - "Novel Approaches in Representation Learning"
Lenka Brestovački (University of Novi Sad and AUTH): Evaluation and comparison of different multi-agent architecture for transfer learning.

Francesco Marchetti (UNIFI and EPFL): TransFeatures: Semantic Multi-modal Transformer for Pedestrian Action Forecasting.

Yue Song (UNITN and UvA): Flow Factorized Representation Learning.
16:10 - 16:45 | Session 3 - "Innovations in Visual AI"
Marco A. Montes Grova (CATEC and AUTH): Photoconsistent and Trajectory Guided Novel-View Synthesis Tool for UAV Cinematography Based on Autoregressive Transformers.

Mihai Dogariu (UPB and JR): Few-Shot Object Detection with Ensemble of Classifiers.
16:45              | End